I didn't wake up angry today, but I worked myself up to "hold me back" by 9:30 am.
The kids weren't even doing anything particularly obnoxious.
Ryan and I had cleaned off the counters last night before we went to bed so that we wouldn't have to be like, "Good morn-- NO, BUSTER, DROP IT." Thursday morning is pancake morning so it's a conflict-free breakfast, and the boys sat at the counter discussing what they'd like on their 'cakes. If you don't smile when you hear a 3-year-old say "marmalade," then gosh, I don't even wanna know you.
Sure, they were doing that thing where they see that I am in the middle of preparing their breakfast, and I don't mean like I just poured pancake batter in the pan and now I'm leaning against the counter waiting for it to cook through. I mean the pan is smoking, I have a carton of milk in one hand and a spatula in the other hand, and I'm using my foot to open the drawer where their plates live, and then simultaneously:
Buster: MOMMY WILL YOU READ THIS BOOK TO ME NOW.
Chicken: MOMMY WILL YOU TEACH ME THE RULES OF CHESS NOW.
To their credit, my EYES and VOICE weren't occupied at that moment. I suppose technically I COULD have read, but my brain was doing pancakes + milk + where's my coffee + what's the weather today + I should write a piece about that Twitter conversation I had last night, and adding a Richard Scarry book, much less the rules of chess, would have been just like one squirrel too many in the old oak tree.
But see what you have to understand is that it's normal to start the day this way.
In the split second that I wake up, my brain catapults from sweet silence straight into the Hunger Games.
actual footage of me waking up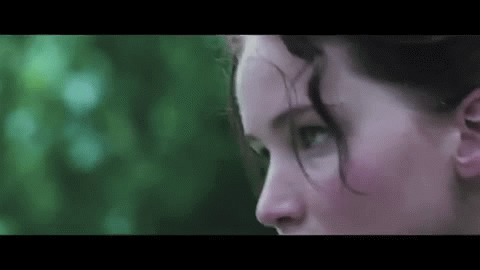 come at me thursday
But it's cool! I'm used to it. Normally I can field those blows with a smile on my face and a blood pressure of 90/60, baby.
I don't know why today was different. It just was. I was out.
It's afternoon now and I took some medicine (and by medicine I mean 9 phyllo-wrapped brie bites warm from the oven #ThankYouDrWholeFoods) so I'm feeling a little steadier, but there were a few minutes there where shit got dark.
After breakfast I realized that I was on empty and being a dick, and I tried to get out. I swear. I tried so hard. I got everyone dressed, grabbed my yoga mat, and loaded up the car.
My plan was:
1. Drop kids of at dropoff playcare place
2. Write for a couple of hours at a coffee shop
3. Hit a hot yoga class
4. Pick up kids after they eat lunch at the playcare spot. Go home, having been transformed into a nice mommy again.
The playcare place basically blows my entire babysitting budget for the week, but SO WORTH IT if they'll take them AND feed them lunch so I don't have to deal with the daily ritual of "Sit, no you need to sit, sit down and eat, I'm worried that you'll fall out of your chair if you keep dancing, please sit, oh no did you fall out of your chair and hurt yourself (in my head: don't say I told you so, don't say I told you so, don't say I told you so...) wow I'm sorry that happened, are you okay, what do you think you could do next time to not get hurt maybe you could just FUCKING LISTEN TO ME hm?"
PS, How many times a day do you
feel like Gandalf
when he's like: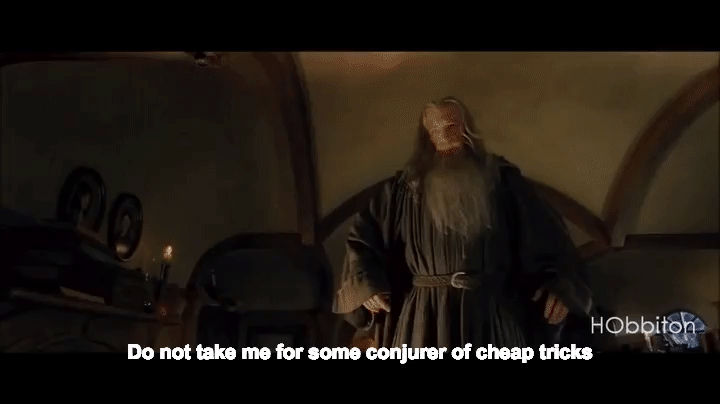 i'm not trying to rob you
i'm trying to help you
Anyway, as we drove to the playcare place I felt my chest get looser and my hands relax. I was almost there. I was almost free. My plan would work, I was sure of it.
So obviously after that last paragraph, you know my plan didn't work.
The playcare place was full.
They looked at me like I was stupid for not having a reservation. Then I had the delightful experience of seeing the "What, are you stupid or somethin?" look on my CHILDREN'S faces for the first time!
Yeah! That felt almost as good as when Buster found the Christmas bells that I threw away because Buster loves them but the sound of those fucking bells literally transforms me into Britney Spears circa 2007.
notice
how calm she looks
And he was like, "Mom I found my bells!"
And I was like, "Huh. I thought I threw those in the garbage because they make me want to hit things with my green umbrella."
And he was like, "Yeah! I found them when I was playin in the garbage and I saved them!"
so just to recap
the bells are back
buster was playing in the garbage
yoga is dust in the wind
so is time to write
and i still have two children
who are both looking at me like
"you dumb, ma?"

time check:
10 am.

wheeeeeeeee
I tried to rally. Chicken convinced Buster to try the gym child care even though Buster isn't fully potty-trained yet so he has to go into the room with the babies. And I was nervous because Buster is 3 going on Khal Drogo. And my B in a room full of babies is like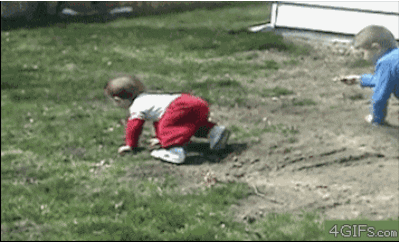 so for this gif
the baby represents the babies
and the dogs
represent my son

not tryna hurt anybody
just
really need to get to that ball
I felt peace on the drive to the gym. I even sang along with the kids' CD until they were like "MOM STOP SINGING." So I stopped singing. And started
belting
. #YouCantTellMeWhatToDo
I thought, "Here it is. Here's the miracle. The point where things turn around. This is going to be the part of the story I tell Ryan tonight when I pause and say, 'But all that was about to change.'"
Child care check-in was a dream, and I saddled up on the weight machines with Big Boi in my ears and a song of hope in my heart.
When my pager went off 5 minutes after I checked them in, I had two thoughts:
1. Maybe he just pooped?
2. Dream on, wee one. At least the fire alarm isn't going off and I got a set of leg presses in.
Apparently he tore down a baby gate and tried to make a break for it, and when the caregiver grabbed him to bring him back into the daycare, he "kicked at her."
How did I handle the news?
Please join me for a flashback to the conversation with the caregiver.
This is real. I remember it clearly because, well, you'll see.
Me: So he kicked
at
you?
Her: Yes. And we can't have that kind of--
Me: Sure, sure, no I understand, but just so I'm clear, he kicked at you, but did he actually kick you? Did his foot touch your body?
Her: Well--
Me: Because I totally agree that kicking a person is not okay, but is it possible that he was just kind of flailing around because he didn't want to go back inside?
Her: It seemed like a
purposeful
kick.
Me: You know him pretty well, I see. And were you holding him at the time?
Her: I was... I was holding him to keep him from running out.
Me: Mm hmm. So if you were three years old and being left in a day care situation and someone grabbed your body, do you think you would just smile and say "OK I guess I'm not scared and upset anymore?" Or, no, you know what, I can tell that you spent the time to consider his feelings and how you might best help him transition into the play space, maybe with a book or a truck or something. I can tell you really gave it your all. For five minutes.
Her: (looks at me not believing that I'm being such an unbelievable bitch. And she's 100% right. I was being an unbelievable bitch.)
Go ahead. Look at me like that. I deserve it. I had 22 leg presses of hope, and then it was all taken away from me. I lost my temper and I am deeply ashamed of the way I spoke to her. I told her as much while I apologized for at least twice as long as I had snarked.
I walked the boys back to the car 5 minutes after we arrived, avoiding eye contact with the woman who'd scanned us in, trying not to cry, feeling all of my feelings at once. Well not all of them. I wasn't itchy or happy.
I'm a failure
I'm trapped
I'm scared of my temper
I'm so ashamed of my behavior
What if something's wrong with Buster
Chicken was the same way at his age
What if it's my fault
I can't even go to the gym
I'd pay someone to just have the chance to ride a bus alone
There comes a point in the day when you're done. Done. DONE. And when you're done, everything else falls away and you focus on the one thing that can make it better. That one thing is different for everyone.
You cling to that thing and you cannot be distracted.
Once we get the car we'll be fine.
Once we get home I can breathe.
Once I eat something I'll feel better.
Once I get a drink I'll be nice again.
But until that thing happens you're a mess. You have no creativity or patience. Your temper is snapping and your hands are pulling and clipping too roughly. Everything that happens, even if it's just normal life (a kid loses a shoe on the path to the car), comes into your mind as an assault on your mission to do the one thing that will save the world. Or at least the day.
Sometimes that point comes when one of your kids gets really hurt at the zoo and you have to pee. Sometimes that point comes when you walk into the kitchen where you thought your kids were eating quietly and you discover that they've been emptying a Costco bottle of olive oil into the dishwasher.
For me, today, that point came when I heard myself talk to the caregiver at the gym. My kids are 3 and 5 and are often rude because they're the passengers of their emotions. I'm 33 and compulsively courteous IRL, but today I was a passenger too and I was abominably rude.
I was done. I needed to get home, get my kids behind closed doors, and write.
So I did.
Do I feel better? I do and I don't. It's not hard for me to stay calm when my kids are locked in bedrooms with their audiobooks and blocks. The test will come when I let them out.
Can I hear Chicken's voice saying, "Mom?" and bite back the impulse to say, "No," before I even hear what he wants?
Can I feel Buster climb onto my back and rein in the need to shake him off like a spider?
Some days I can't be available. Some days I just can't be touched.
This is what it's like to have young kids. This is what happens.
I don't have an ending for this post. My hope is that if you had a shitty day this made you laugh, or helped you feel heard and seen. Did you lose your temper today? Yeah, I did too. A bunch of times.
I'm just gonna tell you what I said to Buster about the gym day care:
Some days are harder than others.
But we'll have another chance and we will try again.
and you are learning and growing every day.
But seriously dude, no kicking.
If you found this post valuable
or Paypal (katykatikate at gmail)
... AND CHECK OUT MY PODCAST!
with Ronit Feinglass Plank