I am Liz Lemon putting my 5-year-old to bed this week.
Me: OK, time for lights-out baby! Sweet dreams! I love you!
Chicken: WAIT! I'm scared of monsters!
Me: Oh yeah?
I go to sit on his mattress.
This is one of those parenting moments that you know to prepare for, like the sex talk and "people come in all shapes and sizes" talk and that "don't put me in a home yet, son, I still have so much left to do."
I have been waiting for the monster talk since I saw that first little pink plus sign on the pee stick.
Chicken: Yeah when I close my eyes I see a team of monsters. There are 6 of them: a red one, a blue one, an orange one, a green one, a pink one, and a yellow one.
I beam with pride. My son has an incredible imagination. A rainbow monster team. There could be a children's book here. When I sell it for a million dollars (like children's books all sell for, right?) I'll make sure he gets his cut. He might have just paid for college.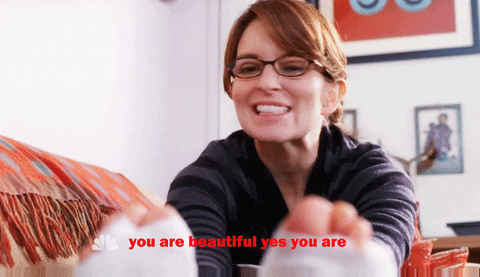 Me: A rainbow monster team. Wow. You have the most beautiful mind, baby. OK, here's the thing about monsters.
Chicken: What?
Me: The best way to feel less scared of monsters? Is to imagine them doing something really silly.
Chicken: Like what?
Me: Well... that blue monster? Maybe he's trying to sneak up on you, but he gets tangled up in a string of Christmas bells and now he jingles like Santa's sleigh!
Chicken giggles.
Me: And that orange monster? He is about to take a big bite out of you... but suddenly he SNEEZES instead and gets boogers all over his face!
Chicken laughs harder.
Me: OK? Make those monsters as silly as you can, and they won't scare you anymore.
Chicken: Thanks, Mom. You're the best.
I really am.
Me: Good night baby.
I close his door softly and swagger into the kitchen to read Ryan in on how to handle monsters like a fucking champion.
Me: OK, time for lights-out baby! Sweet dreams! I love you!
Chicken: WAIT! I'm still scared of monsters!
Awwww... he must have really liked that thing we did last night.
Me: Oh yeah? Remember what we talked about last night?
Chicken: No.
Me: Oh really, Mr. Beautiful Mind?
Chicken: No, I don't remember anything at all.
Me: OK... well... as I said last night... the best way to feel less scared of monsters is to make them really silly.
Chicken: I don't know about that, Mom.
Me: Well, it worked last night.
Chicken: The rainbow monsters are back, mom. Blue, red, orange, green, pink, and yellow.
Wow, did he remember these monsters in the same order as last night? What an incredible child. Okay, Katie, don't be so selfish. Dinner can be reheated. Just finish strong, you've got this.
Me: Okay... the blue monster. He... what... he trips on his long blue monster shoelaces and falls into a giant bowl of monster pudding!
Chicken laughs
Me: And... the red monster. He... um... he sneaks up on you and opens his mouth to roar a terrible roar... but all that comes out is a hiccup!
Chicken giggles and snuggles down into the pillows.
Me: Okay? Good ni--
Chicken: But wait, Mom, there are still 4 more!
I walk out of the room 15 minutes later, pleased with myself but also aware that somewhere deep inside the control room of my Mom Brain, a computer monitor has just powered on all by itself. The monitor has a sign above it that reads, "Chicken Bullshit Monitoring System."
Oh well. Nothing a little pudding on the treadmill can't fix.
WEDNESDAY
Me: OK, time for lights-out baby! Sweet dreams! I love you!
Chicken: WAIT! Mom! THE MONSTER THOUGHTS!
Hm. His eyes are very bright. And he appears to be smiling. In fact, he's trying not to laugh.
This is starting to raise some red flags. Nuh uh. Nope.
Me: You know what to do about the monsters, buddy.
Chicken: Please help me? I'm sc-sc-sc-scared.
Did he just fake-stammer.
OK that was cute... but as Sherlock would say, THE GAME'S AFOOT! Quick mental math... how long will it take to hold your ground and not do the monster thing again and engage in a debate about the reasons why you're not doing the monster thing... and how long will it take to suck it up and power through the monster thing that YOU INVENTED. Nice one, btw.
As with all elements of parenting, you did this to yourself.
Deep breath. Do these fast. Stick to malfunctioning body parts and forms of mucus.
Me: OK, so blue monster can't stop sneezing and then he--
Chicken: No, monsters don't sneeze.
whatthefuck
Me: Yes they do.
Chicken: No they don't. I read it in a book, Mom. Monsters never sneeze.
Me:
Fine
. Sooooo then blue monster starts tweeting like a little birdie and--
Chicken: No Mom. Monsters don't tweet.
Me: Some do. #PRESIDENTBURN HEYOOOO!
Chicken: What?
Me: Nothing, yes this monster starts to tweet like a little birdie and that's why it's funny, because he's a big scary monster and he makes a cute little noise.
Chicken: Like a bluebird?
Me: Sure. Or a sparrow.
Moment of silence while he considers my offering and I realize that I am his little meat puppet, dancing, dancing, dancing to make him laugh, dancing until he grants me mercy.
Chicken: If it's like a bluebird, I'll allow it.
Me: OUTSTANDING. BLUEBIRD IT IS.
Chicken is good and kind. I am not worthy of this mercy.
Chicken: Now the red monster.
Oh fuck.
I walk out of the bedroom half an hour later with a new list of things monsters "never do," according to "a book," and my suspicions confirmed. Chicken is fucking with me.
I slink into the kitchen like a dog who ate the whole chocolate cake and is now spending a week shitting mustard puddles.
Ryan: How'd it go with the monsters?
Me: IT WENT AWESOME RYAN. BEST PART OF MY DAY.
Chicken: I told you. Monsters never sneeze.
Me: Well I looked it up in a book today and yes they do.
Chicken: No, they don't, your book must be fake.
Me: YOUR BOOK IS FAKE.
Chicken: NO IT ISN'T IT'S IN MY MIND.
No way to win this one. Keep it moving.
Me: Chicken-- okay, he doesn't sneeze, he gets the hiccups.
Chicken: Nope. Monsters don't hiccup either.
Me: GREAT! WELL then tonight we're going to do this a little differently.
Chicken: How?
Me: You're going to make the monsters silly and I'm going to eat a bagel.
Chicken: NOOOOOOOOOO MOOOOOOOOOOOOOM
Me: CAN MONSTERS SNEEZE?
Chicken: ...
Me: Can they, Chicken?
Chicken: I guess so.
Me: OKAY THEN. THE BLUE MONSTER SNEEZED.
Chicken lays back listlessly against the pillows and the light starts to fade from his once-sparkling eyes. All he wanted was a silly storytime with his mommy. And I had to go ruin it... with my insistence that monsters can sneeze when really, HOW DO I KNOW? And where was I in such a hurry to rush off to, anyway? An encore performance of "The Cat's in the Cradle"?
Me: Chicken? I'm sorry I yelled.
Chicken: What about the red monster.
Me: Well...
I emerge from the bedroom 45 minutes later, aged 79 years in my heart and eye skin, emotionally drained and certain that I have just destroyed my son's imagination, faith in reality, sense of wonder, and most importantly, belief that I am cool.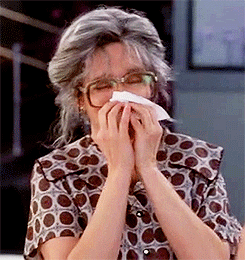 Me, yelling:
STOP CHICKEN
NO
MONSTERS AREN'T REAL
WE HAVE JUST BEEN PLAYING A GAME
THIS WHOLE TIME
THAT I FELT LIKE I HAD TO KEEP PLAYING
TO HELP YOU KEEP YOUR SENSE OF WONDER
FOR JUST A LITTLE LONGER
Chicken, out of breath, as if he had just swum across a lake and run up a mountain to burst through the door and tell me that:
MONSTERS ARE TOO REAL
AND YOU DON'T SEE THEM
BECAUSE THEY ARE NOCTURNAL
AND YOU DON'T SEE THEIR FOOTPRINTS
BECAUSE THEIR BUSHY TAILS SWEEP THEM AWAY
Me, yelling louder but in that overpronounced, big-eyes way that parents do when they're trying to gaslight their children into believing that having a calm discussion instead of shout-fighting about the nature of reality:
ACTUALLY
CHICKEN
MONSTERS ARE NOT REAL
THERE IS
NO
SUCH
THING
AS --
Chicken, jumping on the bed with every word:
BUT!
WHAT!
ABOUT!
DARTH!
VADER!
Me, literally clapping every word:
HE!
IS!
MADE!
UP!
Chicken, stomping on the bed with every word and pumping his fists toward me, Tae Bo style:
NO!
HE'S!
REAL!
HE IS MY FRIEND AND WE BOTH LOVE OTTER POPS!
Me, instantly calm:
Really?
Chicken, also instantly calm:
Yeah. He likes purple.
I walk out of the room with no memory of closing the door behind me and Ryan looks over and sees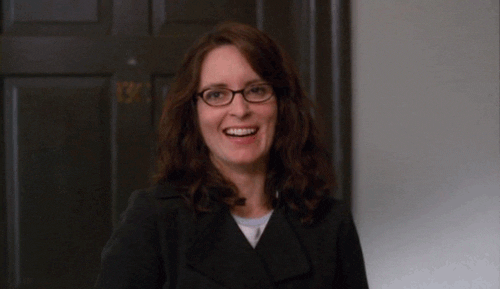 Ryan: Everything okay in there?
Me: Yep. You're on bedtime tomorrow.
If this post cracked you up
100% of proceeds go to RAINN
& Sisters of Color Ending Sexual Assault
... AND CHECK OUT MY PODCAST
with Ronit Feinglass Plank